Do You Need an Electrician?
GET IN TOUCH WITH CRESCENT ELECTRICIANS
Best Service – Best Price – Best Warranty
Simply The Best Electricians Since 1948
Contact Information:
–
Crescent Electric Service Co, Inc.
Phone: 202-244-8100
 Fax: 202-363-7100
Email: service@crescentelectric.us
Business Hours:
Monday – Friday
7:00am – 5:00pm
24-Hour Emergency Service Available
Licensed | Bonded | Insured
DC – MD – VA
5614 Connecticut Ave NW
Washington DC 20015
Privacy Statement:
In submitting this form, your information provided will only be used by Crescent Electric Service for the Best Washington DC Area Electrician Services. If you wish further information concerning our privacy policy, please visit
Crescent Electric Privacy Policy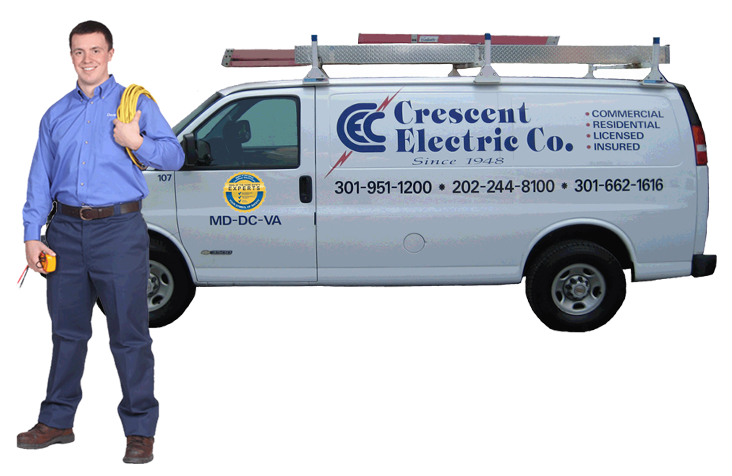 Crescent Electricians are Licensed, Bonded, and Insured in all these locations.
Call now to get simply the best electricians since 1948
Washington

DC Electrician



Frederick,

MD Electrician



Gaithersburg, MD Electrician


Reston, VA Electrician

Rockville, MD Electrician


Laurel, MD Electrician



Chevy Chase, MD Electrician


McLean, VA Electrician
Arlington, VA Electrician

Takoma Park, MD Electrician

Leesburg, VA Electrician

Silver Spring, MD Electrician

Hyattsville, MD Electrician


Greenbelt, MD Electrician

Kensington, MD Electrician


Bowie, MD Electrician



Alexandria, VA Electrician

Potomac, MD Electrician

Burtonsville, MD Electrician

Germantown , MD Electrician

Damascus , MD Electrician


Tysons Corner , VA Electrician

Mount Airy, MD Electrician


Lisbon, MD Electrician



Bethesda, MD Electrician

Olney, MD Electrician

Clarksburg, MD Electrician


Falls Church, VA Electrician

Springfield, VA Electrician

Centreville, VA Electrician

Urbana, MD Electrician


Wheaton, MD Electrician